A Wonderful And Queer Time For "Most!"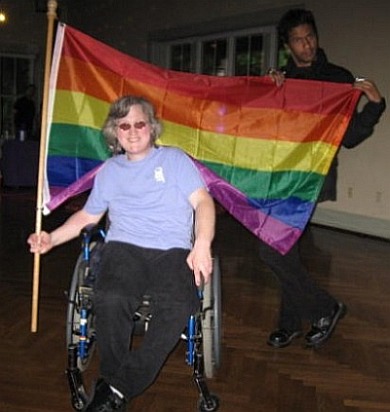 Mid Hudson Valley, New York -
It was a terrific gathering of numerous organizations and folks from around the state at the first "Big Gay Hudson Valley" event.

A few of us arrived early in the afternoon to set up the tables, chair, lights, sound system etc. It was a "BYO" event in where people brought their own food and alcohol.

"Chippendale for sale!" What a way to get the attention of so many gay guys at an event! My friend was setting up our spot near the tables and when she brought out these 2 old collapsible chairs, I looked up at her and said "these things look so old they might even be Chippendale's" and to my amazement, many of the guys attention focused right on them and smiled saying, "Don't think so."

Unfortunately, after a few hours of the event, the organization groups tables and picnickers had to come inside as the skies above opened and the rain came pouring down (what entertainment it was to see how fast people can work together in getting everything out of harms way)!

As you can see from the picture, I was the "mechanized" queer who made sure there was plenty of Pride spread among the hundreds of party goers!

Later in the evening I decided to work off some "extra" energy so I began to dance (since the dance floor was pretty vacant). I started to spin around in my chair dancing to the techno music and just getting into it (if anyone ever tells you that people with disABILITIES can't dance, HA!). It wasn't till later that others came out to dance and dance they did!

"Thank goodness for a woman who carries her own tools and knows how to use them" After some excitement of dancing and just having a great time, I noticed something did not feel right with my chair. It turned out one of the handrails had partially separated and needed to be repaired. Of course with a "house" full of dykes, there had to be someone who had some tools! I tracked down my friend Grace who came to my rescue and got things back in order. She is like my own personal AAA!

The one annoyance was this guy who was drunk. He insisted on pushing me around in the chair as well as saying some pretty nasty things and wanting to kiss me. I made sure he knew that that wasn't an option open for discussion!

Now, to "set them straight.."
One of the party goers was there with her daughter and boyfriend. The boyfriend kind of paced a bit and then sat in a corner worried because he was never "exposed" to a room full of queers! Of course when I heard that, I had to offer some help! Sooooo, I went over to him and said "if anyone here tries anything, you come to me and I will be sure to set them straight!" And, as a last bit of comforting gesture I told him, "unfortunately, we don't rub off on you."


Happy upcoming Pride To All!
Standing up (ok, sitting down) for our rights!

Keep a smile on your face and love in your heart!