McCain's Lend Some Voice To Gay GOP Group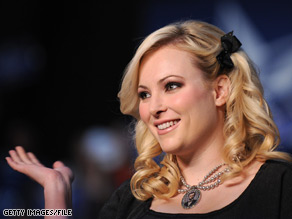 Washington - Megan and Mother Cindy McCain will be making an appearance at the conservative gay rights group Log Cabin Republicans
4 day convention which kicked off Thursday evening.

"Of all the causes I believe in and speak publicly about, this is one of the ones closest to my heart" said Megan, who has been a vocal supporter of Marriage Equality.

In a Thursday interview with CNN, Log Cabin Spokesperson Charles Moran said the organization is lobbying New York Republicans to help pass the same sex marriage law championed by the state's Governor David Paterson (D).

Finally, GOPer's not afraid of speaking up for what is right, EQUALITY!

Keep a smile on your face and love in your heart!